In the framework of the International Festival of Contemporary Theatre HOMO NOVUS 2001 and the European Cultural Month in Riga
The co-production project of NTI and the Lithuanian theatre company "Miraklis" will be presented
in August – September 2001 in Latvia and in Lithuania
and in other European festivals in summer 2002
"I played, I danced" after Rainis
directed by Vega Vaiciunaite (Miraklis)
What?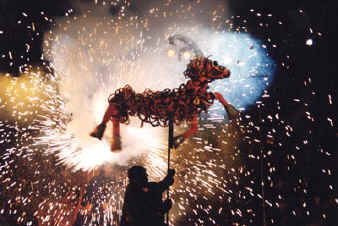 The phantasmagoric show of philosphical ideas by well-known Latvian poet Rainis. Site specific performance with elements of rituals of Balt's ethnography.
The "Spçlçju, dancoju" is based on a legend about the talented musician Tots and his fate. Once he has been invited to play at the wedding party of the beautiful bride Lelde. Suddenly devils arrived to the festivity and kidnap Lelde. Tots enters life and death struggle, he could not reconcile himself to his lot. He met the Underworld forces and at the same time examined his Believe, Will and Brave. He was obliged to choose between his life or the life of his beloved Lelde. He gave his three drops of blood and fulfilled his will / saved Lelde.
Who?
The "Miraklis" is an independent theatre company from Vilnius. It is formed from artists, musicians, actors, the pyrotechnic group "Blikas" and light designer. They make dolls, create installations and perform together since 1995. Until now the "Miraclis" has staged several performances in unconventional spaces. "Sun's Journey" was the visual story about the travel of the Sun over the Zodiac, that in symbolic way told about the journey of human souls over various spiritual experiences. The performance "Pro memoria St. Stephan 7" was built as the phantasmagoric dream devoted to the memory of Jewish people who lived in Vilnius. "The Tempest" after W. Shakespeare was an open-air show with shadows, dolls, fire and music on water. The "Four Biblical Dances" was made after four short texts from the Bible, that have been read in Hebrew and in Lithuanian accompanied by shadows and dolls. In the performance "Speleju, dancoju" original music by the ethnic music group"Ilgi" (http://www.upe.parks.lv/ilgi/start.htm ) from Latvia will be presented. 25 Latvian and Lithuanian actors are engaged in this project. Duration of the performance ~ 1 hour.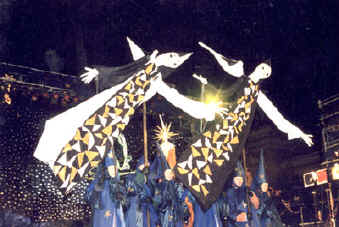 Where?
At historically significant, at present neglected places "X" in Lithuania, Latvia and at the international festivals elsewhere. In Riga the performance will be presented in the Bolderŕja's fortress that has been used as a military base for German, Russian and Swedish armies of conquerors during 800 years. Possible touring to Latvian cities Liepŕja and Daugavpils and to cities in Lithuania.
Producers: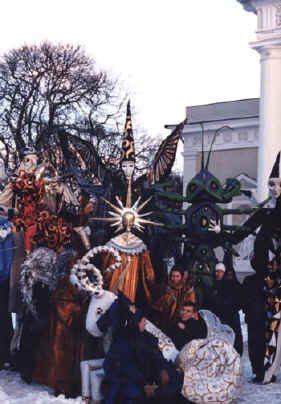 The New Theatre Institute of Latvia and the Lithuanian theatre "Miraklis" (Vilnius)
Ilze Klavina e- mail: jti@latnet.lv
Vega Vaiciunaite e-mail: miraklis@takas.lt
Financial support
Ministry of Culture of Latvia,
the Culture Capital Foundation
Cultural department of Riga City Council
Soros Foundation - Latvia